Royal Botanic Gardens, Kew
United Kingdom - Surrey - Richmond
Institution Code: K
International Agenda Registration: Yes
BGCI Member: Yes
The water lily house at Kew.
About the Royal Botanic Gardens, Kew
The mission of the Royal Botanic Gardens, Kew is to enable better management of the Earth's environment by increasing knowledge and understanding of the plant and fungal kingdoms - the basis of life on earth.

Kew is a world-leading public organisation governed by Trustees and sponsored by Defra: our funding comes mainly from Defra, visitor income and fundraising from individuals and organisations.

Over 1,200 people work at Kew including 700 staff (200 in science and 200 in horticulture), 75 affiliated researchers, 100 students and 350 volunteers

RBG Kew includes two outstanding gardens – Kew Gardens, a World Heritage Site six miles west of London, and Wakehurst Place on the High Weald in West Sussex. These attractions are home to Kew's collections, laboratories, library and the Millennium Seed Bank.

RBG Kew is devoted to increasing knowledge and understanding, so that the diversity of plants and fungi can be conserved for future generations and used in sustainable ways for human benefit.

Herbarium specimens of 7,000,000 include 250,000 types, 200,000 specimens of cultivated plants and 80,000 artefacts of plant and fungal origin.

Taxa 28,689 includes 4,141 genera, 11,557 spp, 57,049 accessions and 108,663 living plants.

When the totals held at Kew's satellite garden, at Wakehurst Place, are added, the totals rise to the following: Genera - 4,875, Species - 13,808, Taxa - 33,748, Accessions - 72,254 and Plants - 148,008.
Main Address:
Royal Botanic Gardens, Kew
Kew
Richmond
Surrey TW9 3AB United Kingdom

Telephone: 0208 332 5000
Fax: 0208 332 5197
URL: http://www.kew.org
Primary Email: info@kew.org
Huarango Woodland Restoration Project
The ancient Nasca people drove themselves to near-extinction by replacing woodlands of the huarango tree (Prosopis pallida) with intensive farming practices. Without huarango trees to release moisture to the atmosphere, the local climate became progressively drought-prone, thus dooming the agriculture in this very arid part of southern Peru.
Royal Botanic Gardens, Kew is working with local people, government and industry to re-establish hyperarid woodlands in southern Peru. For more than five years, school children and their parents have learned about the importance of the native huarango tree to their own economic well-being, and have become major partners in re-establishing the woodlands and conserving remnant stands of native vegetation.
They have propagated tens of thousands of native trees, shrubs and herbs and the new woodland is over one kilometre long.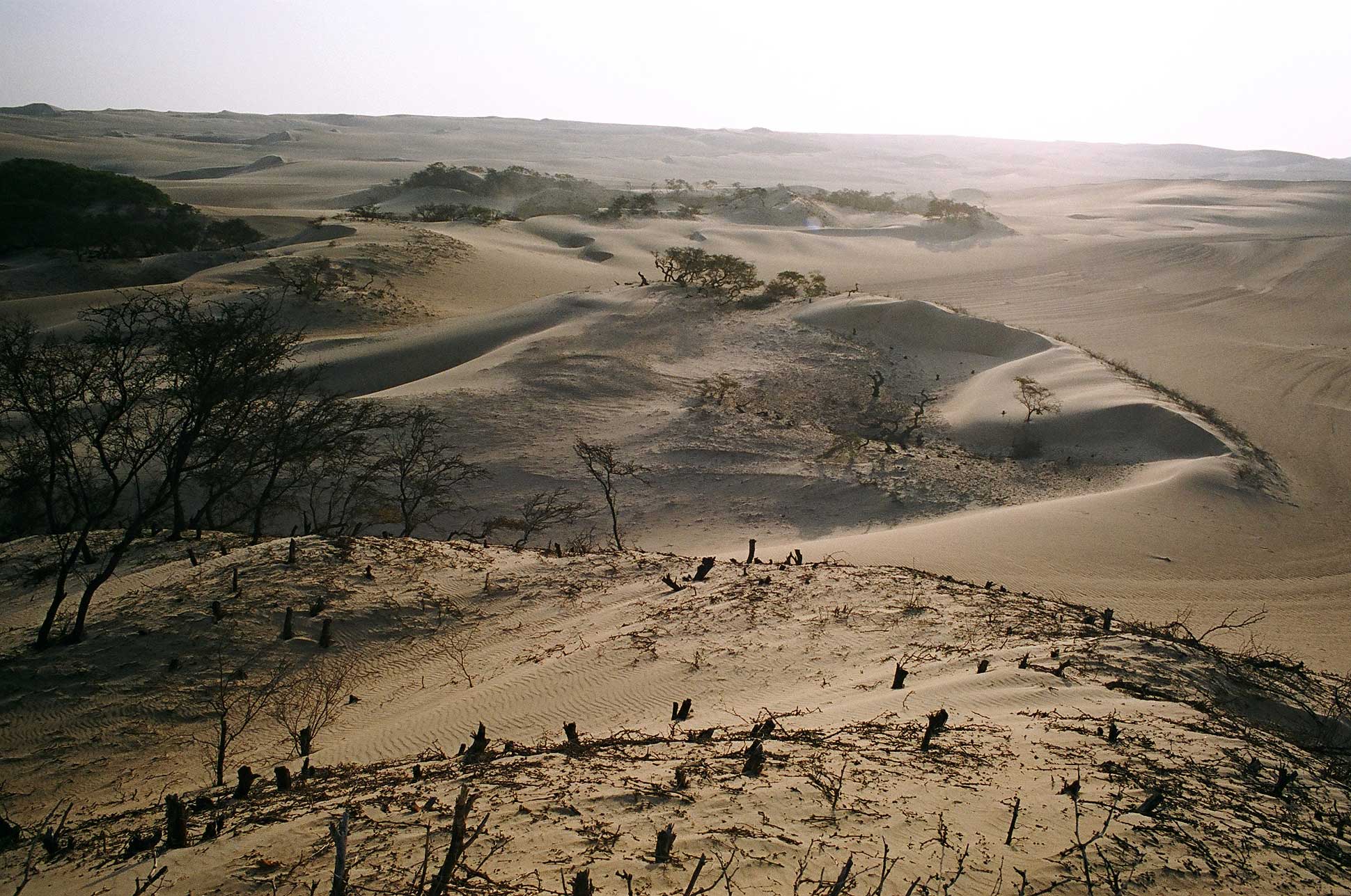 Deforestation of huarango woodland
---