Missouri Botanical Garden
United States of America - Missouri - St. Louis
Institution Code: MO
BGCI Member: Yes
About the Missouri Botanical Garden
Founded in 1859, the Missouri Botanical Garden is the nation's oldest botanical garden in continuous operation and a National Historic Landmark.

The Garden is a center for botanical research and science education, as well as an oasis in the city of St. Louis. The Garden offers 79 acres of beautiful horticultural display, including a 14-acre Japanese strolling garden, founder Henry Shaw's original 1850 estate home, and one of the world's largest collections of rare and endangered orchids.
Main Address:
Missouri Botanical Garden
4344 Shaw Boulevard
St. Louis
Missouri 63110 United States of America

Telephone: (314) 577-5100
Fax: (314) 577-9521
URL: www.mobot.org
Primary Email: visitorservices@mobot.org
Madagascar: Preserving and Restoring a Rich and Diverse Flora
Madagascar is known for its extraordinary diversity, with 11,600 named plant species native to the island and a predicted 3000 additional species waiting discovery and/or scientific naming. At least 83% of the Malagasy flora is found nowhere else on earth. Sadly, only 10% of the original vegetation remains on the island.

Over the last decade, Missouri Botanical Garden's Madagascar Research and Conservation Program has implemented habitat restoration projects in association with community-based conservation programs at twelve sites scattered throughout the country. In total these sites encompass 61,650 hectares and include an array of native vegetation types. Restoration activities include:
Thorough botanical inventories of each site, providing key information for science-based restoration
Reducing or, if possible, eliminating destructive activity (such as wild fires, shifting cultivation, and non-sustainable exploitation of timber) in degraded forests to facilitate natural regeneration
Establishing nurseries that produce seedlings of native trees (particularly pioneer species) for forest restoration projects, as well as fruit and spice trees to provide food and income for local people
Planting fast-growing trees as sources of fuel wood and timber for local people, thus helping to provide an alternative to the unsustainable use of dwindling native forest resources
Efforts are also underway with local communities to provide alternative and improved livelihoods from economic activities dependant on the non-sustainable exploitation of natural resources.
Please contact Chris Birkinshaw for more information about Missouri Botanical Garden's work in Madagascar.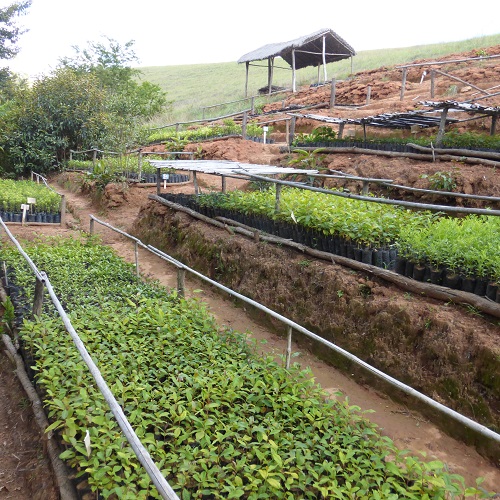 Native tree nursery adjacent to the Ankafobe Forest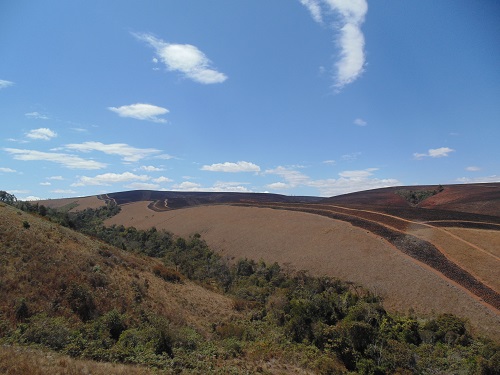 Firebreaks have been established to protect Ankafobe Forest
---
Restoring diversity in the St Louis Region
Missouri Botanical Garden manages the Shaw Nature Reserve. The ecological restoration goal at the is the creation or rehabilitation of a mosaic of habitats that can support healthy populations of the maximum possible number of plant and animal species native to the St. Louis region. This will enhance the Reserve's role as a refuge for the biological heritage of east-central Missouri. Approximately half of the Reserve's 2400 acres are currently set aside as the "Native Habitats Area" and are managed to favor native biodiversity. The habitats represented include glades, prairies, wetlands, and woodlands. Management methods include assessment of existing diversity, control of exotic species and aggressive natives (such as Eastern Red Cedar (Juniperus virginiana), reintroduction of native plants and occasionally animals, properly timed mowing and prescribed burning.
Restoration began in earnest in 1979. The first effort was the planting of 48 acres of prairie. Prairie restoration sites in the core of Shaw Nature Reserve now comprise over 250 acres of authentic tallgrass prairie similar to that which, two centuries ago, occupied perhaps 40 percent of Missouri. Wetlands consist of about 32 acres of "swell and swale" topography along Brush Creek, reshaped in stages, in 1991, 1993 and 1996, with earth-moving equipment. The earthwork was followed by ample rains and sowing of species-rich seed mixes, along with some direct plantings of wetland flora. The wetlands include seasonally flooded pools, marsh, wet prairie and moist woodlands, watered by rainfall runoff from the prairie uplands nearby.
Approximately 50 acres of naturally occurring dolomite glades, native grassland, in the Shaw Nature Reserve have been reclaimed through restoration from encroaching Eastern red cedars and other trees since 1991. The portions in good condition are serving as natural sources of native plant and pollinator species for both glade and prairie restorations.
More recently, ecological restoration, including invasive species control and prescribed burns have been applied to the woodlands. Eastern red cedar and other fire-sensitive tree species being removed from the woodlands to allow more light and air-flow, and to increase herbaceous plant diversity. Ozark woodlands were inhabited for centuries by Native Americans and maintained by their "fire culture". As modern restoration progresses, selective cutting and prescribed burning have yielded an oak and hickory-dominated woodland with "orchard-like" appearance described by European settlers 150- 200 years ago. As the woodland structure becomes more open, a carpet of grasses and flowers, some of which are best adapted to growth in the dappled light of the woodlands, has flourished. Please contact Mike Saxton for more information about this project.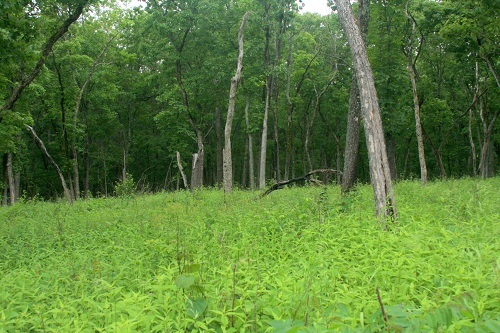 Restored woodland at Shaw Nature Reserve
---