Jardin Botanico Regional de Cadereyta - Ing. Manuel Gonzalez de Cosio
Mexico - Querétaro - Queretaro
Institution Code: MAGOC
International Agenda Registration: Yes
BGCI Member: Yes
ArbNet Accredited: Level II
About the Jardin Botanico Regional de Cadereyta - Ing. Manuel Gonzalez de Cosio
Despite the fact of Querétaro being only a small State in Central Mexico and unknown to many foreigners, its plants on the other hand, enjoy a worldwide recognition, primarily those of the semi-arid region.

Occupying 0.6% of the nation's territory, with an extension of 11,769 squared kilometres, Querétaro is located between parallels 20° 01' and 21°37' and meridians 98° 54' and 100° 35'. 7 hours from Greenwich Time Zone. The State possesses a rich biodiversity and it is for this reason, rather privileged. Its geography encompasses evergreen forests in the northeast, scrubs of various types (xerophilous) in the central and southern area, as well as temperate forest filled with oaks and pines and evergreen cloud forest in the peaks of the eastern side of the Sierra Madre. This territory is filled with a wide flora variation, nonetheless, it is not exempt from detrimental and destructive factors resulting from human impact; making the threat of extinction not only a real but also a permanent one. Among those species facing the greatest threat of extinction taxa of diverse of families are found, as well as specimens from all type of habitats; without a doubt, the family which has the largest number of species under threat of extinction is the cactacean family.

Although of recent foundation, Queretaro's Botanical Gardens -founded only about 20 years ago, the first being founded in 1986-, have had ever since, a clear vision of their function as important propagation centers of endangered species and an awareness of their role in safeguarding vegetal germplasm of wild species. Because of the concern of local botanists, a large diversity of species with an important economic and ecological relevance have been reproduced in Querétaro even before a global strategy was declared and the first ecological laws provided the legal and institutional framework for this type of activities in Mexico.

Our Botanical Gardens have always strived for the implementation of endangered wild species propagation programs, as well as having a reproductive unit available on site. Although our efforts have focused in experimenting with and developing new techniques for the propagation of members of the cactacean family, throughout the years we have had the opportunity of experimenting with other botanical families as well.
Main Address:
Jardin Botanico Regional de Cadereyta - Ing. Manuel Gonzalez de Cosio
Consejo de Ciencia y Tecnologia del Estado de Queretaro
Pasteur 36 sur
Queretaro
Querétaro 76000 Mexico

Telephone: +52 (441) 2 76 06 47; (442) 2 12 72 66
Fax: +52 (442) 2 14 36 85
URL: http://www.concyteq.edu.mx/JB/inicio.html
Primary Email: jbotanicocadereyta@concyteq.edu.mx
Ecological and agroforestry approaches to restoration in urban degraded areas in Queretaro, Mexico
This project aims to restore relicts of natural habitat surrounded by urban areas. As there are no reference habitats to work from, because the degradation of the habitat has happened over many years, two approaches to restoration are considered: ecological and agroforestry. The hope is to restore some of the ecological services provided by the habitat as well as evaluate the two methods of restoration. The main objective of this project is to develop a mixed strategy of landscape restoration, using ecological and agroforestry methods, to recover relicts of wild areas close to urban settlements whilst helping to preserve native flora and creating a sustainable model of use.
Main Steps:
1. Design a reference ecosystem
2. Design and establish strategies for both agroforesty and ecological restoration
3. Evaluate the two strategies
4. Produce a handbook for implementation and evaluation of both agroforestry and ecological restoration strategies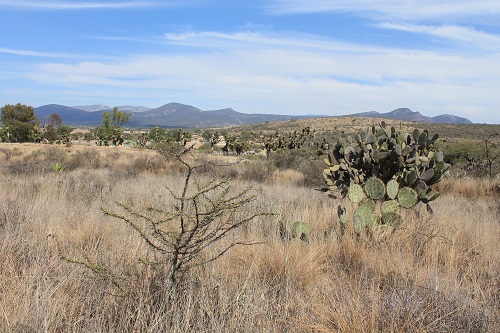 Degraded land in the vicinity of the city Cadereyta de Montes

The area proposed for these trials is a wild area of eight hectares within the Cadereyta Regional Botanical Garden which is currently dominated by the exotic species, Melinis repens. Native species will be provided from the botanic garden's own stock. The ecological approach plots will use native pioneer and secondary species to replace the M. repens. The agroforestry plots will also use local food crops and will include water supply and weed control.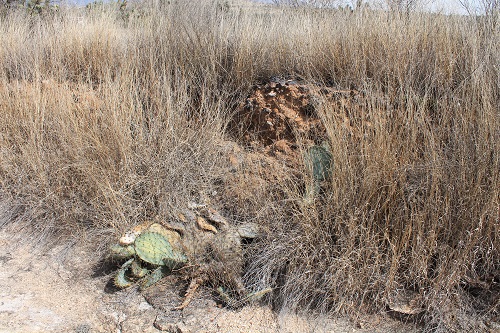 Native species struggling to grow in the degraded landscape

Evaluation will use various indicators including growth rate, recolonization from exotic plans, increasing plant, pollinator and visitor diversity, crop size and cost benefit rate.
Results will be compiled into a brochure which will include replicable methodology for non-specialists.
The plots will remain at the garden as a permanent exhibition.
Please contact Beatriz Maruri Aguilar for more information about this project.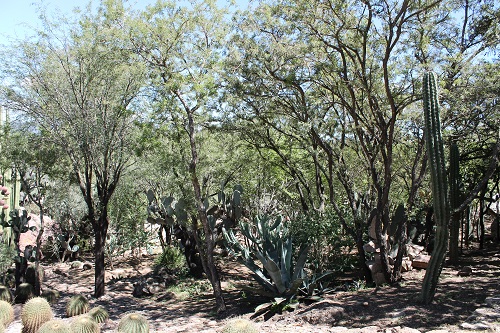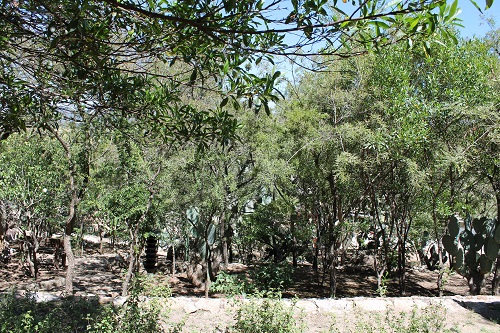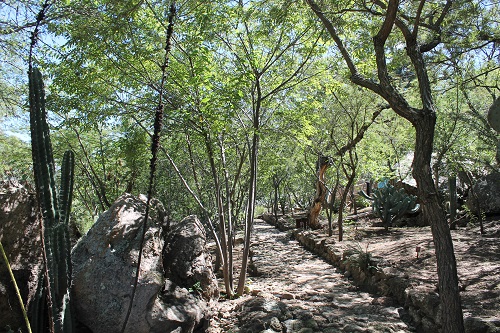 "Vegetación del Valle de Querétaro" (Trees from the Queretaro Valley) at the Cadereyta Regional Botanic Garden. Developed in five years, this section of the botanical collection shows how the objectives of growing native vegetation can be achieved in a short time. Almost all the trees have been grown by seed, at the Garden's facilities.
---