Jardín Botánico Francisco Javier Clavijero
Mexico - Veracruz - Xalapa
Institution Code: XAL
International Agenda Registration: Yes
BGCI Member: Yes
ArbNet Accredited: Level I
View of arboretum of Jardín Botánico Francisco Javier Clavijero in a early winter morning. You can see a big Platanus mexicana in the middle.
About the Jardín Botánico Francisco Javier Clavijero
The Francisco Javier Clavijero Botanic Garden was inaugurated in February of 1977. It is located in Xalapa, about 500 km East of Mexico City, into the natural distribution of temperate montane cloud forest. Through its 40 years, the Garden has become one of the most important in Mexico.

Native tropical montane cloud forests are considered among the most biodiverse and endangered ecosystems of the planet, and the Clavijero Garden is the only one in Mexico situated in this highlighted ecosystem. This unique vegetation cover approximately 1.5 Ha. into the Garden. It consists of large native trees (Ulmus mexicana, Ostrya virginiana, Quercus spp.), shrubs, tree ferns (Alsophila firma), undergrowth palms (Chamaedorea spp.) and many species of epiphytes, mainly bromeliads (Tillandsia spp), orchids, epiphytic ferns, and peperomias among others.

Began in the late 1970s, the Mexican National Cycad Collection consists of the 56 species described to date for Mexico, like Dioon spp, Zamia spp. and Ceratozamia spp. . It includes at least one species from each of the other world genera, except Chigua. It supports various fields of scientific research, as DNA bar-coding. Cultivation experiments are carried out to improve propagation methods. It is considered the most important cycad collection in Latin America.

Developed on past five years, the Mexican National Bamboo Collection is currently well established and comprehensive. It includes 54 native species of genera Aulonemia, Guadua, Chusquea, Rhipidocladum, Olmeca and Otatea, and supports research in plant anatomy, horticulture and ethnobotany. Part of both collections are on exhibition and are used for educational purposes at all levels. Besides, the Garden's experts assesses sustainable management nurseries of these groups.

An outstanding Chinese tree species at the Garden is Metasequoia glyptostroboides reported to be the southernmost specimen of this species under cultivation in North America, including Central America.

Aimed to children and families, our educational programme "Todos al Jardín Botánico" includes activities of popular science, arts and other recreational events. It is the starting point for approaching themes about nature conservation to the people of Xalapa. Besides being a beautiful place for leisure and relaxation, the Garden is recognized as an outstanding environmental educational center, notable for its living collections and public educational events. The Garden receives approximately 40,000 visitors a year.

The Garden holds a documented living collection, consisting of 6,035 specimens among 1,013 species, distributed among pinetum, arboretum, palmetum, native cloud forest, pond and research greenhouses. There is also an exhibition of a traditional shade coffee plantation, a feature of the Veracruz cloud mountain landscape. 40% of its collections are endangered species.

All collections in the grounds are mapped on coordinates using a botanic gardens data base system (BG-Base and BG-Map) and the living collections in greenhouses are in the process of micro-chipping, especially the more valuable and rare ones.
Main Address:
Jardín Botánico Francisco Javier Clavijero
Instituto de Ecologia, Km 2.5 Carretera antigua a Coatepec No 351, Congregación El Haya
P.O. Box 63, 91000
Xalapa
Veracruz 91073 Mexico

Telephone: 52 (228) 842 18 27
Fax: 52 (228) 818 78 09
URL: jbclavijero.blogspot.com
Primary Email: jardinbotanico@inecol.mx
Cloud Forest Restoration Project in Xalapa, Veracruz, Mexico
The tropical montane cloud forest has been considered as a priority for conservation since it occurs in less than 1% of the Mexican territory and harbors more than 10% of the plant species that exist in Mexico.
The Clavijero Botanical Garden was founded in 1977, and maintains and manages a Cloud Forest Sanctuary – a natural protected area that has 30 ha of preserved forest and young and old-secondary forest. The CBG and the Sanctuary goals are focused on conservation efforts through environmental education and ecological restoration. There have been propagation programmes for threatened cloud-forest trees such as Symplocos coccinea, Podocarpus guatemalensis and Styrax glabrescens since 1990. Rescue and propagation of two endangered species Magnolia dealbata and Talauma mexicana has been a success story for the garden. Seed storage and propagation techniques for these species were developed and the species established in cultivation for the first time. Seedlings have been re-introduced into the adjoining ecological park as well as distributed to state and municipal nurseries as future seed trees for the propagation of the species.
Adjacent to the Clavijero Botanical Garden, a new project began in 2011, when the Instituto de Ecología (INECOL) bought an abandoned pasture with a small area of forest with a spring. The forest fragment, as well as the adjacent Sanctuary are the closest propagule sources. Although no major disturbances occurred while being a pasture (e.g., fires, floods), the introduced grass is an exotic species (Cynodon plectostachyus), tall and very competitive, with a high growth rate that has arrested the successional process.

The forest restoration project has two main objectives 1) to understand the ecological processes and actions that may accelerate the recovery of a cloud forest, and 2) to inform the public about the long and complex process behind the restoration of a peri-urban cloud forest from an abandoned pasture.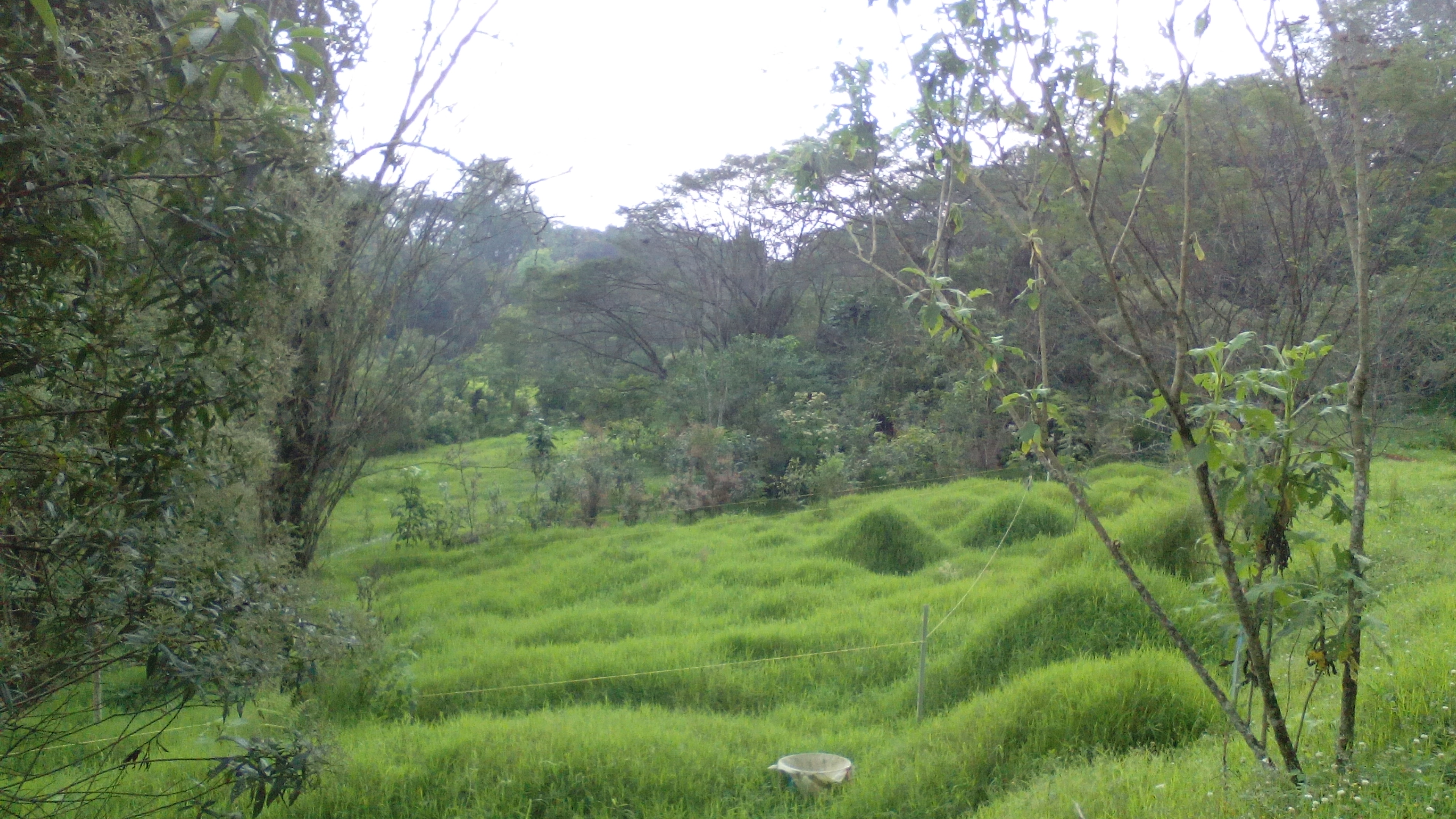 Passive restoration plot, dominated by exotic grass

Within the restoration project (2.9 ha), we established four permanent parcels (40 × 40 m) where all existing woody vegetation was identified and tagged. Within each parcel we established two paired plots (15 × 15 m), where active and passive restoration processes are displayed. In the active restoration plot, four native forest tree species were introduced; the passive restoration plot was left undisturbed. After three years of the project, the difference in both restoration plots are striking; passive restoration plots are still monodominated by the presence of the tall exotic grass, while tree species in the active restoration plots have had high survival and growth.

In addition to the restoration project, within the site we have conducted seed bank and seed rain evaluations, as well as grass removal nucleation experiments. Preliminary base line results suggest that given the vegetation structure and composition, as well as the propagules availability (both in seed bank and seed rain), the area has a high recovery potential. However, recovery is highly limited due to the presence of the African grass and active restoration strategies are necessary to overcome woody plant establishment barriers.

The area will be open soon and be part of the permanent and dynamic exhibitions of the CBG with the long term goal (50 years) of recover and establish a peri-urban cloud forest patch.
Please contact Andrew Vovides or Guadalupe Williams for more information about this project.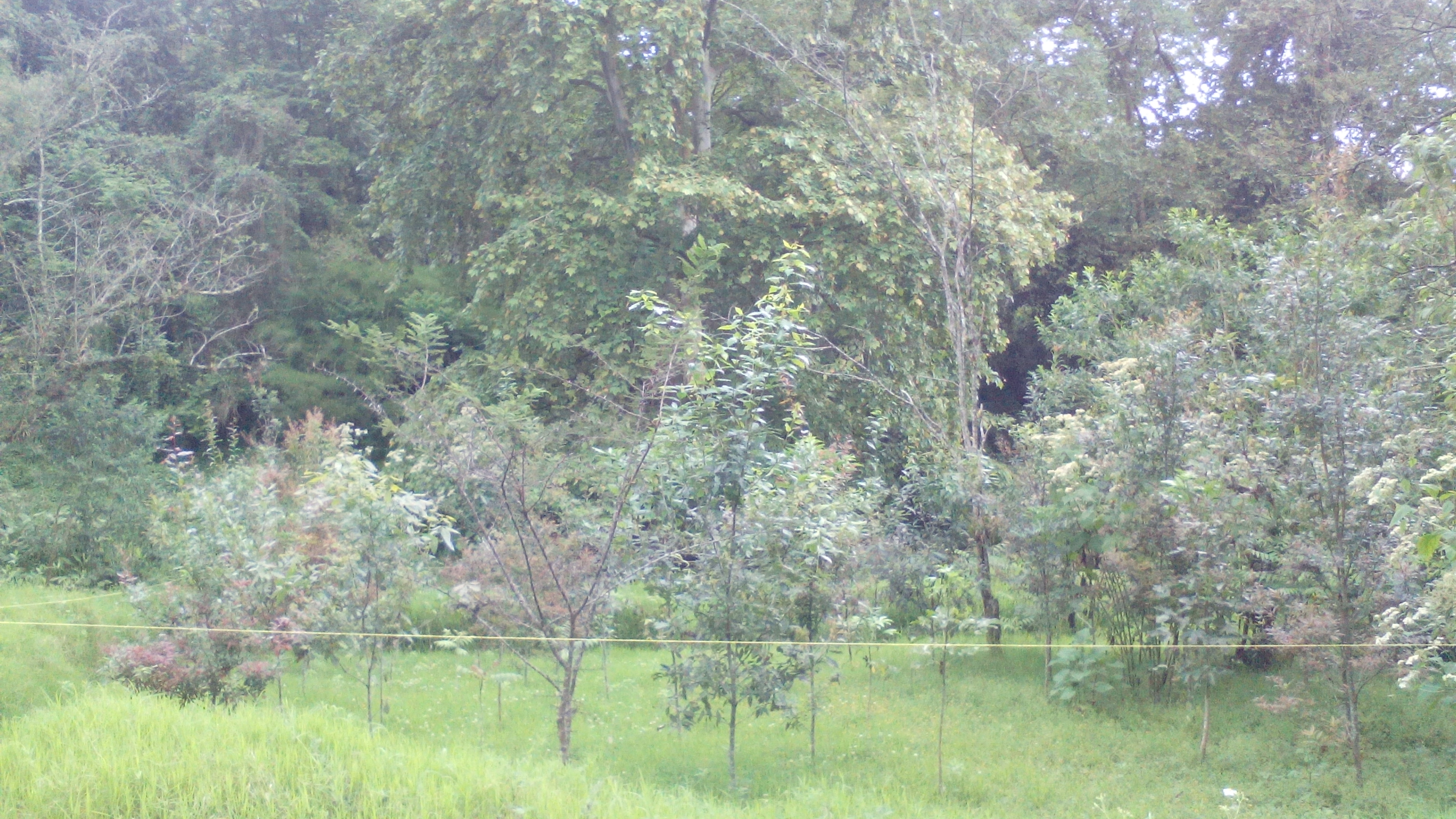 Active restoration plot planted with native trees
---