Limbe Botanic Garden
Cameroon - Fako Division, South West Province - Limbe
Institution Code: LIMBE
International Agenda Registration: Yes
BGCI Member: No
About the Limbe Botanic Garden
1,500 of taxa consists of 1,000 herbaceous and 500 woody trees.
Main Address:
Limbe Botanic Garden
Minitere de Lsadasd
P.O. Box 437
Limbe
Fako Division, South West Province Cameroon

Telephone: 237 433312 / 332620 (Sat phone +873 761305824 +873 761305833)
Fax: + 237 433312
URL:
Primary Email: lbgmcp@camnet.cm
Community-Based Floriculture Industry Development Project (CFIDP)
The Community-Based Floriculture Industry Development Project (CFIDP) aims to understand the cost at and scale to which it is possible for Cameroon to develop a strong floriculture industry.
The project, which is funded by the US Department of Agriculture, has helped introduce UN FAO Good Agricultural Practices (GAP) to farmers, improved the local economy and transformed the region's landscape. Limbe Botanic Garden has also seen an increased number of visitors as a result of the project.

Project start date: March 2003
Project end date: Ongoing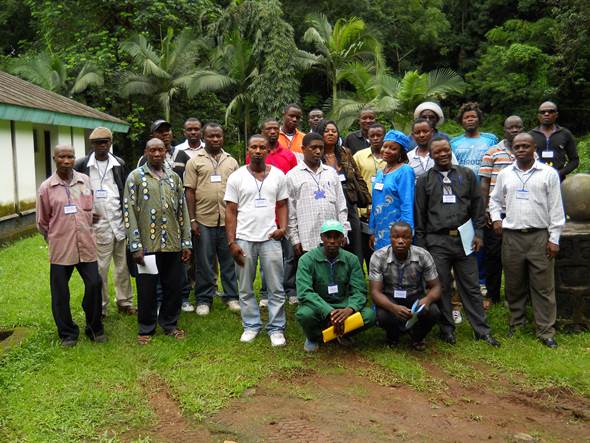 Meet the team.

©

Limbe Botanic Garden

ABOUT
The CFIDP aims to evaluate Cameroon's efficiency in producing and marketing high-quality tropical cut-flowers of an international horticultural standard.
The project's key objectives include:
- To understand what tropical cut flowers and nursery plant species, packaging and marketing avenues are best for Cameroon
- To improve understanding of production, disease prevention and pest control of tropical cut flowers
- To identify of potential plant species for development of unique flagship products to be introduced into the world's floriculture market
The project began in 2003 by working with the Cameroonian community, introducing locals to GAP through training workshops and radio broadcasts. Farmers also worked with the project's organisers to select pilot farms on which GAP could be used, test cultivars and propagate good quality seeds and seedlings. Surveys of the local and European markets were conducted to understand whether a floriculture industry could be developed in Cameroon.
Cut-flower farms.

©

Limbe Botanic Garden
IMPACT
The CFIDP has since created a new farming system in the region. GAP are now being implemented by nearly all farmers, and flower production has become another source of income for communities.
The local economy has benefited and the livelihoods of individuals have improved. Some farmers have themselves been able to hire unemployed members of the community, giving these people the opportunity to earn money and learn about the plants being grown.
The landscape has also been transformed. Areas once covered by weeds have now become flower farms, and destructive erosion has been reduced in hilly regions. In addition, some native species and plants that were previously identified as weeds have now been introduced to the list of cut-flowers and have the potential to be sold worldwide.
Limbe Botanic Garden has seen an increase in attendance as a result of the project, with visitors wanting to find out more about flower production and GAP.
WHAT'S NEXT?
CFIDP organisers aim to continue this promising industry. Flower farmers in the region are currently the main suppliers to Cameroon's biggest city, Douala. With more funding, it is hoped a flower exhibition will be organised and training can be provided to producers on floriculture processing and packaging. Organisers would also like to create a database of the common English/French and scientific names of flower species grown.
PRACTITIONERS & SPONSORS
Yves Nathan Mekembom, Technical and Research Officer, mekembom@yahoo.fr

Limbe Botanic Garden

US Department of Agriculture (main sponsor)

Ministry of Agriculture and Rural Development, Cameroon

Ministry of Town Planning, Cameroon

University of Buea, Cameroon

Cameroon National Herbarium

Royal Botanic Gardens, Kew
---