Xishuangbanna Tropical Botanical Garden, CAS
China - Yunnan - Mengla
Institution Code: HITBC
International Agenda Registration: Yes
BGCI Member: Yes
Founder of XTBG, Professor Cai Xitao and his associates.
About the Xishuangbanna Tropical Botanical Garden, CAS
中国科学院西双版纳热带植物园
Xishuangbanna Tropical Botanic Garden (XTBG), the Chinese Academy of Sciences (CAS) is located in Menglun Township, Mengla County of Yunnan Province.

XTBG is a comprehensive research institution engaged in biodiversity conservation and sustainable uses of plant resources, focusing on forest ecosystem ecology, conservation biology and resource plant development. Facilities available for scientific research include two national field research stations (Xishuangbanna Tropical Rainforest Ecosystem Station, and Ailaoshan Station for Forest Ecosystem Studies); laboratories for Biogeochemistry, Molecular Biology & Biotechnology, Plant Phylogenetics & Conservation Biology, Physiological Ecology; a Germplasm Bank for Rare & Endangered Plants; and a Herbarium of Tropical Plants, etc. Aside from the headquarter in Xishuangbanna, an important division has been setup in Kunming, the capital city of Yunnan Province.

Currently (as of Dec. 2016), XTBG has 345 staff members, including 184 researchers and technical personnel. There are 90 senior researchers and 110 PhD holders, 181 postgraduate students (59 of them are doctoral candidates) and postdoctoral or visiting scientists.

Over 13,500 species of plants are well preserved in its 38 living collections.

Search us within BGCI website: >>>--GO--<<<

More information:

XTBG has become one of the "AAAAA" level tourist destinations in China since July 2011.

Download: Annual Reports (since 2006)

Download: International Agenda for Botanic Gardens in Conservation (中文版)

Visit: ... Chinese Union of Botanical Gardens (CUBG) ...

Visit: ... Digital XTBG / Database ...
Main Address:
Xishuangbanna Tropical Botanical Garden, CAS
中国科学院西双版纳热带植物园
Menglun, Mengla
Mengla
Yunnan 666303 China

Telephone: 86 691 8715460
Fax: 86 691 8715070
URL: www.xtbg.cas.cn
Primary Email: stp@xtbg.org.cn
Tropical Forest Restoration and Environmental Education
A challenging project to restore parts of Xishaungbanna's tropical rainforest, involving schoolchildren and volunteers to enable the local community to play an active role in conserving their rainforest for the future.
Using botanical expertise and historical records to restore forest remnants
Conserving Xishaungbanna's rainforest for posterity
Raising environmental awareness within the local community

Started: 1st June 2012 Anticipated end date: 31st December 2014
ABOUT
This challenging project builds on more than 50 years of research at Xishuangbanna Tropical Botanical Garden (XTBG). Drawing on its wealth of botanical knowledge and collections, historical records and nursery expertise, XTBG is in the process of restoring two degraded remnants of Xishuangbanna's tropical rainforest.
The Garden will utilise its experience in environmental education and excellent community ties to run activities with local schools and involve volunteers in the restoration, ensuring that the community has a hand in conserving its rainforest for the future. The project also takes advantage of recent interest by the Xishuangbanna Government in improving the management of existing Nature Reserves and protecting those forest fragments outside them.
Restoring the rainforest
The first study site is a 225 hectare area of limestone seasonal forest in Green Limestone Forest Park (GLFP), part of Xishuangbanna National Nature Reserve. Over the past few years, parts of GLFP have been severely damaged by rubber and fruit tree plantations.
XTBG has established 40-year cooperation with the Management Bureau of the Xishuangbanna National Nature Reserve to conduct practices on biodiversity conservation, restoration, and endangered plants reintroduction in GLFP.
In July 2011, project 'Restoration of Tropical Limestone Rainforest in Xishuangbanna' was initiated as an example of restoration of tropical limestone rainforest. One hectare of degraded forest was selected as a pilot site and thirty saplings, comprising ten different species, were planted to facilitate succession. All of the species planted were dominant or climax species of limestone forest. Tree seedlings are now conserved ex situ in XTBG for use in future restoration.

The second study site is a small remnant of tropical seasonal forest near Mangyangguan village in Xishuangbanna. The first ecological station for the study of tropical rainforest was established here by the Chinese Academy of Sciences in 1958, making this the longest-studied rainforest fragment in Xishuangbanna. Once part of a larger forested area, and considered a 'holy hill' by the local Dai people, rubber plantations have steadily encroached on the site. Today, less than 10 hectares survive.
Despite the loss of area, the number of different species has remained similar. However, appearances can be deceiving. Many original primary forest species have been replaced by new pioneers and several aliens (species non-native to an area), which must be tackled before the site can be restored. The fragment is now almost surrounded by rubber monocultures, but respect for its 'holy hill' status and historical scientific importance has ensured that the core area remains virtually intact.
Preliminary discussions with village leaders suggest that there would be strong local support for moving beyond preservation to restoration. Before restoration work begins, plant species throughout the study site will be comprehensively investigated with the involvement of the local people.
Introducing schoolchildren to forest conservation © Xishuangbanna Tropical Botanical Garden
Involving the community
XTBG has evaluated the current state of the forest in Xishuangbanna and is now working with the local community to begin restoration and run related educational activities with local schools. Practitioners have begun a series of conservation-themed talks at a local primary school, and have already seen a change in the attitude and behaviour of the pupils.
The majority of educational activities will start this September (2013), when pupils return from summer holiday. The plan is to teach schoolchildren the importance of biodiversity in a tropical forest. XTBG staff will visit schools and talk to the students about conservation, as well as show them how to identify local plants.
The Garden will provide native tree seedlings that students can plant in the forest and around their school grounds. Older students and community volunteers can get involved in clearance of exotic (non-native) weeds at the restoration sites.
IMPACT
The project plays a crucial role in determining the value of small forest fragments for biodiversity conservation in a landscape that has become dominated by people.
The anticipated impact of the project is threefold:

XTBG will gain practical field experience in forest restoration in two contrasting types of forest.
Two valuable remnants of Xishuangbanna's forest cover will be restored, and species that were driven from the area by monocultures returned, opening the way for long-term conservation.
Environmental education activities at schools and consultation and involvement of the public will ensure that, when it comes to conserving their forests, local people feel informed and empowered.
WHAT'S NEXT
XTBG hopes to provide an example of community-supported protection and restoration of forest fragments in Xishuangbanna as a successful model which could be applied to other fragments. The long-term goal is the restoration and conservation of Xishuangbanna's forests, together with a community which has gained awareness and appreciation for their forests and the wildlife living within them.
PRACTITIONERS & SPONSORS

Wang Ximin, Head of Public Education, Education & Tourism Dept. of Xishuangbanna Tropical Botanical Garden

Project funded by Xishuangbanna Tropical Botanical Garden and Botanic Gardens Conservation International.
---
Restoring tropical rainforests in southwest Yunnan, China
Xishuangbanna Tropical Botanical Garden (XTBG), CAS is working with BGCI on the restoration of a tropical forest remnant with the aid of historical records and ex situ plant collections. Focussing on the conservation of remnant rainforest fragments and pilot restoration of degraded sites in Xishuangbanna National Nature Reserve, a survey was initiated in the first part of 2013, to obtain an overview of the plant species composition of the entire area where restoration work is planned. More specifically, a forest fragment near Mangyangguan village was surveyed to update earlier species lists and identify restoration needs. Despite the high level of degradation and invasive species including the neotropical Chromolaena odorata, more regeneration of rainforest tree species than expected was found. Based on the survey, a draft list of 67 tree species has been established for consideration in the initial tree-planting efforts. Cultivated in Xishuangbanna Tropical Botanical Garden's nurseries, over three hundred saplings of 16 native species of local provenance were planted in the sites of Manyangguang village and Menglun town. Trial plantings with native species have continued over the last year.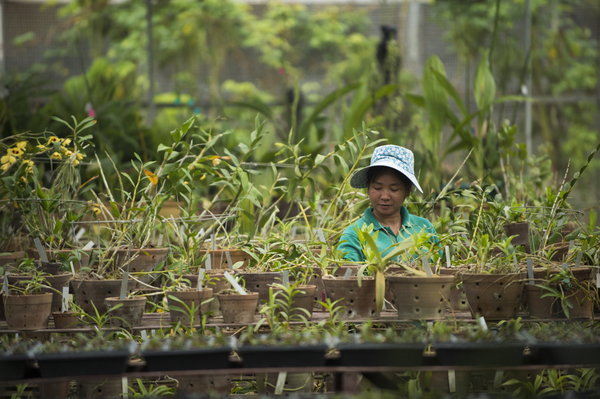 Native orchid nursery at XTBG. Photo credit: Barney Wilczak
In 2015, work will continue to support education programmes at local schools, involving students in some practical work to remove invasive species and planting saplings. Additional training in restoration techniques will also be carried out for local community representatives.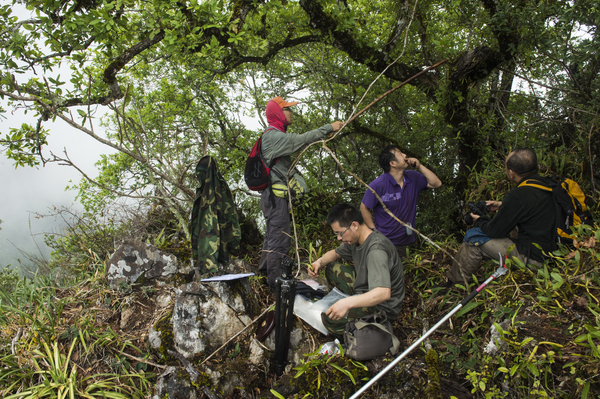 Surveying Yin Chang limestone rainforest. Photo credit: Barney Wilczak
---