Brackenhurst Botanic Garden & Forest
Kenya - Limuru
Institution Code: LIMU
International Agenda Registration: Yes
BGCI Member: Yes
ArbNet Accredited: Level II
Restored indigenous forest at Brackenhurst Botanic Garden (Photo credit Barney Wilczack)
About the Brackenhurst Botanic Garden & Forest
Since its founding in 1990, this botanic garden has restored a 40 hectare area of forest.

With a strong focus on indigenous species, planting efforts have naturally increased the number of species of flora and fauna recorded in the grounds of the garden, including 170 bird species.

The vision of Brackenhurst is to:

- Create an indigenous forest and botanic garden with native plant and associated non-plant biodiversity for education, conservation, research and environmental restoration, and;

- To restore ecosystem services in the Brackenhurst Valley, in particular perennial stream flow

Brackenhurst Botanic Garden is part of the Ecological Restoration Alliance of Botanic Gardens.
Main Address:
Brackenhurst Botanic Garden & Forest
Plants For Life International
P.O. Box 617
Limuru
00217 Kenya

Telephone: +254 733 995478/ +254 66 73407/ +254 66 73007
Fax:
URL:
Primary Email: mjlni@yahoo.com
Forest Restoration in the East African Uplands
Brackenhurst Botanic Garden's restoration of upland forest near Nairobi has become a model for East African habitat restoration initiatives.
The forest in the region was once so extensive that it hosted leopard, buffalo and elephant, and blocked city residents' view of Mount Kilimanjaro. Less than 2% of original forest remained before restoration work began at Brackenhurst Botanic Garden, with the rest mostly transformed into tea and eucalyptus plantations.
The upland forest restoration work of Brackenhurst Botanic Garden near Nairobi, Kenya, is the most diverse example of forest restoration in Kenya and has become a model for East African habitat restoration initiatives. One hundred acres (40 hectares) of tropical rainforest have now been replanted. In just 15 years, the project has replaced exotic tree plantations with a 30-foot tall native forest that shelters lianas, orchids and a species-rich understory. More than 500 East African woody species, including 25 threatened species, have been incorporated in restoration plots and the compound of Brackenhurst Conference Centre. The forest is now home to over 170 species of birds, 120 species of butterfly, as well as fruit bats. The project also provides livelihood opportunities in an area of high unemployment, by training and employing local people.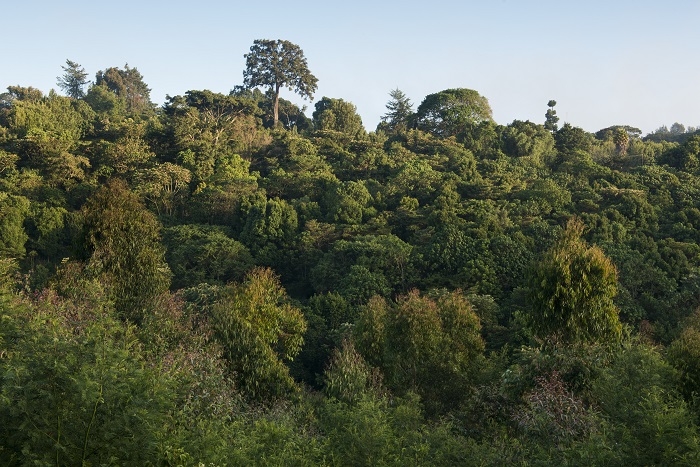 Restoration forest at Brackenhurst Botanic Garden
Contact details
For more information on this project please contact Mark Nicholson.
---