Jardim Botânico Araribá
Brazil - São Paulo - Amparo
Institution Code:
BGCI Member: Yes
Main Address:
Jardim Botânico Araribá
Rua Guaraci Paulino de Oliveira 170, Distrito de Arcadas
Estrada Municipal AMP 372 Km 5,5 B. Rosas/Arcadas
Amparo
São Paulo 13.908-190 Brazil

Telephone: 55 1938071230
Fax: 55 1938071230
URL: www.sitioduascachoeiras.org.br
Primary Email: rppn@sitioduascachoeiras.org.br
Restoring Brazilian Atlantic Forest
Jardim Botânico Araribá (JBA) is located in Brazilian Atlantic Forest, in a farm that has 30 hectares, which is being restored with native species.
Tropical forest ecosystems are under constant pressure from extensive degradation worldwide. In particular, the Atlantic Forest of southeast Brazil has a long history of heavy anthropogenic disturbance since the 16th century and despite its status as a globally important biodiversity hotspot, it is recognised as one of the most degraded ecosystems on the planet. Only very small and isolated fragments now remain of the original cover (less than 2%) and, as such, in addition to surrounding anthropogenic activity, these fragments are generally under continuous disturbance. Jardim Botânico Araribá (JBA) is located in one of the few fragments of Atlantic Forest in the region, in a farm that has 30 hectares, of which 20 hectares are already restored with the native species.
The JBA team is working hard to restore Brazilian Atlantic Forest, since 1987, and the current restoration projects intend to restore not only specific plant species, but also the ecosystem as a whole. After 30 years of restoration practices, four headwaters have reappeared which feed the closest city from the botanic garden (Amparo – São Paulo, Brazil). The restored forest protects the river banks avoiding the silting process, and protecting the river water quantity and quality. JBA integrates threatened tree species into restoration activities such as Paubrasilia echinata (EN), Cedrela fissilis (EN), Chloroleucon tortum (CR) and Zeyheria tuberculosa (VU). The botanic garden also runs environment education activities to educate a new generation about sustainably allocating natural resources.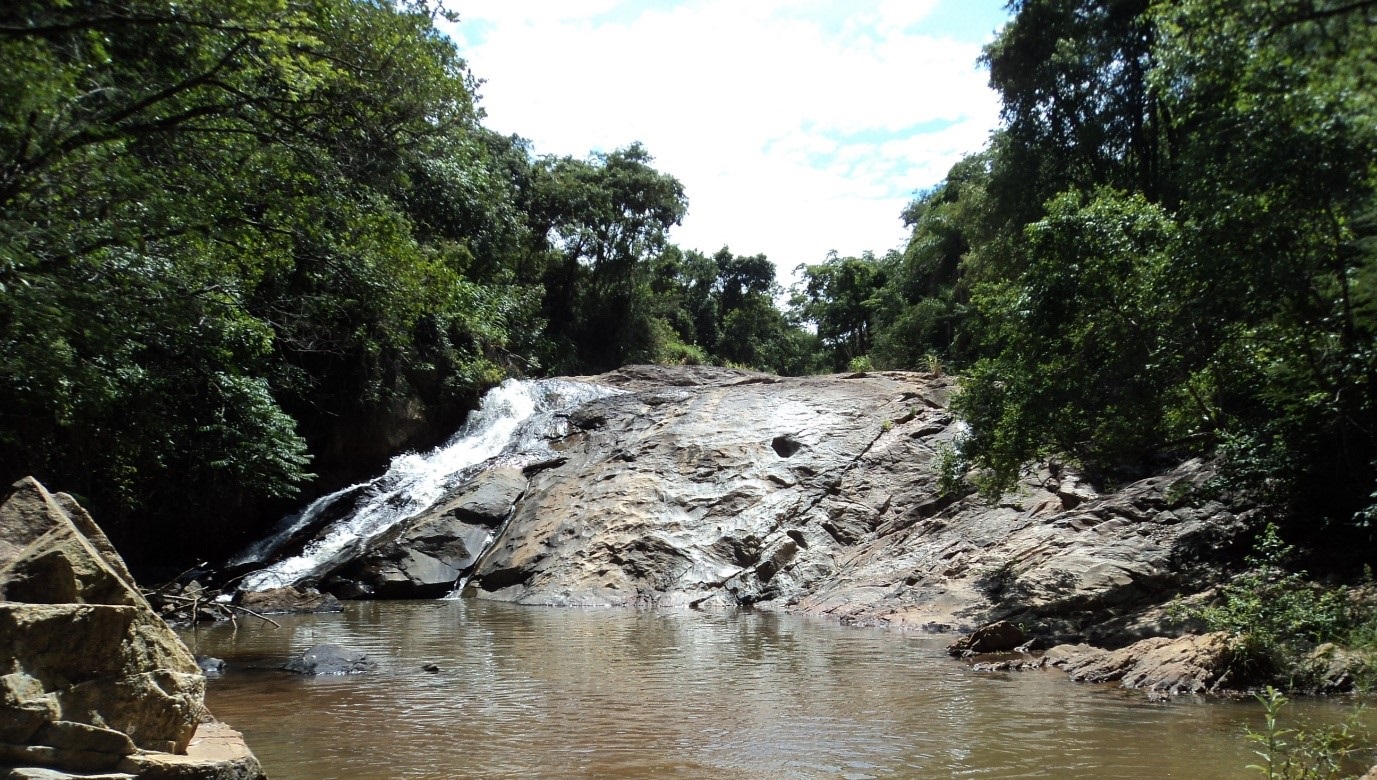 Restored areas surrounding rivers and waterfalls now protect the water resource
Contact details
For more information on this project please contact Gabriela Meirelles or Guaraci Diniz Jr.
---