Fairchild Tropical Botanic Garden
United States of America - Florida - Coral Gables
Institution Code: FTG
International Agenda Registration: Yes
BGCI Member: Yes
Fairchild's rainforest waterfall
About the Fairchild Tropical Botanic Garden
Fairchild Tropical Botanic Garden is dedicated to exploring, explaining and conserving the world of tropical plants.

It is one of the premier research and education-based gardens in the world and a recognized international leader in conservation. Fairchild Tropical Botanic Garden's palm and cycad collections are part of the North American Plant Collections Consortium of the American Public Gardens Association (APGA). FTBG has an education program reaching some 50,000 school children per year; hosts popular events like the International Mango, Chocolate and Orchid Festivals, the Ramble, concerts, affiliated plant society shows and sales and more; and, is a not-for-profit organization relying on the support of its 40,000 members and benefactors.
Main Address:
Fairchild Tropical Botanic Garden
10901 Old Cutler Road
Coral Gables
Florida 33156 United States of America

Telephone: (305) 667-1651
Fax: (305) 667-6930
URL: www.fairchildgarden.org
Primary Email: webmaster@fairchildgarden.org
The Fairchild challenge
The Fairchild Challenge supports and encourages motivated young people towards:
• Active learning
• Environmental stewardship
• Building connections with professionals in the field
• Innovative career pathway

This year's Fairchild Challenge started: 24th August 2013
Anticipated end date: 30th June 2014
© Fairchild Tropical Botanic Garden
ABOUT
The Fairchild Challenge is a unique school-based environmental education program whereby students are engaged and actively involved in environmental education and stewardship, beginning in elementary school and continuing through college. The guiding principals of the Challenge are to ensure that these young people are given the opportunity to be active learners using real-life experiences, to explore and create independently and to connect with people in the field (either young careers professionals or seasoned veterans).

There are two objectives:
To support the development of environmentally-aware and motivated students who will become solution-oriented stewards of the environment;
To offer students with an interest and aptitude for biological sciences a complete pathway to a career in this field.


© Fairchild Tropical Botanic Garden
The programme is a free, interdisciplinary competition that is aligned with state and national educational standards and is embedded into the local public education system. Through the programme, students actively learn, explore and devise creative and effective responses to some of the most pressing environmental issues of our time. With competitions in various disciplines, the annual menu of options uses the environment as an integrating context for learning.

Contest options, called challenges, allow students to engage in the following projects: research, debate and devise solutions to environmental issues; create environmentally themed artwork; work in and with their community to raise environmental awareness; learn from their elders; conduct habitat restoration at schools; implement green initiatives at home, school and in the community; creatively write about nature; and work with professionals throughout the region to explore science careers.
© Fairchild Tropical Botanic Garden
IMPACT
Through repeated exposure to highly experiential and inquiry-based environmental education from an early age, the Fairchild Challenge influences and empowers a diverse new generation of scientists, researchers, educated voters, policy makers, and environmentally-minded citizens. Promoting the Challenge programme through schools maximizes youth involvement and weaves attention to nature into the daily lives of young people, regardless of age, race, religion, socio-economic status, or ability.


WHAT'S NEXT?
In response to the local success of the Fairchild Challenge, Fairchild has begun to offer the program as a replicable model to other cities throughout the United States and abroad. The eagerness with which dozens of national and international sites have taken up this offer reflects the programme's resonance in diverse social settings.

The goal of the Fairchild Challenge National Movement is to build the environmental education capacity and impact of the Fairchild Challenge programme by defining, capturing, celebrating and showcasing best practices of the Miami-model and currently active sites.

Fairchild also partners with Botanic Gardens Conservation International to host a Global Challenge in which students from all over the world can participate in one specific challenge and compete internationally.

LINKS
Visit www.fairchildchallenge.org for more information about the Fairchild Challenge and this year's Global Challenge opportunity.

PRACTITIONERS & SPONSORS
Amy Padolf, Director of Education at Fairchild Tropical Botanic Garden
Funded through corporate and foundation support
Partnered with Botanic Gardens Conservation International
---
Preserving rare plants in urban South Florida
Fairchild Tropical Botanic Garden's South Florida Conservation Team (SFCT) works to maintain native plant diversity in the highly fragmented urban landscape of southeast Florida. The city of Miami was built atop the Miami Rock Ridge, a limestone outcropping home to lush tropical hardwood forests intermixed within a pyrogenic landscape of calcareous pine savannah known as pine rocklands. These habitats share a unique blend of temperate and tropical species at the edges of the perspective ranges. Outside of Everglades National Park, these habitats now exist as small, scattered parcels, most of which are owned and managed by Miami-Dade County (MDC). These parcels still hold a wealth of rare plant species, in some cases the only populations in existence. For over a decade, the SFCT has worked closely with MDC to take important steps to prevent local extinctions.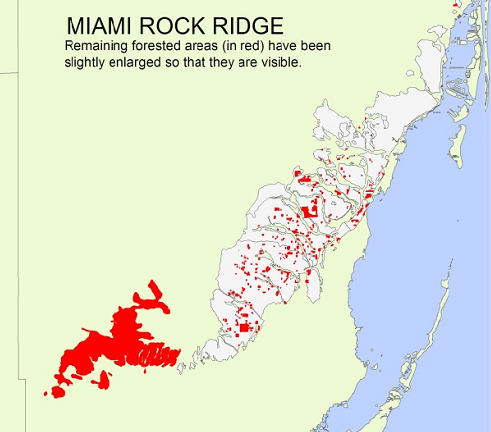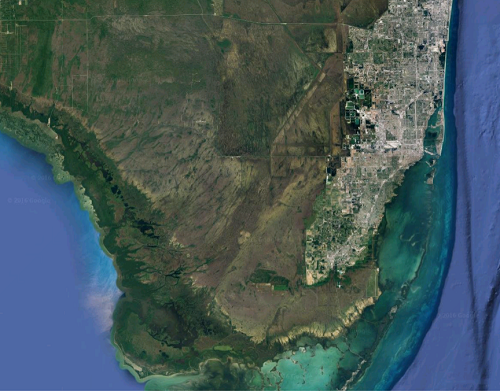 Figure 1: The Miami Rock Ridge, though a hotspot for plant diversity, also represents the only high ground in the region. Most of the area was developed into greater Miami in the 20th century. (Top) Extent of the Miami Rock Ridge is outlined with remaining parcels slightly enlarged in red. (Bottom) Satellite imagery showing the development of the Miami Rock Ridge.
Mapping/ Monitoring: The SFCT maintains maps for every known occurrence, both current and historical, of over 70 rare plant species on MDC preserves. These maps serve as a fundamental baseline for local conservation action plans, guiding preserve managers', and aid the SFCT in monitoring rare plant populations.
Reintroductions: The SFCT has conducted 36 total reintroductions of 17 species within MDC preserves. These reintroductions reduce extinction risk while providing important ecological data on each species and their habitat requirements, in addition to adding conservation value to preserves.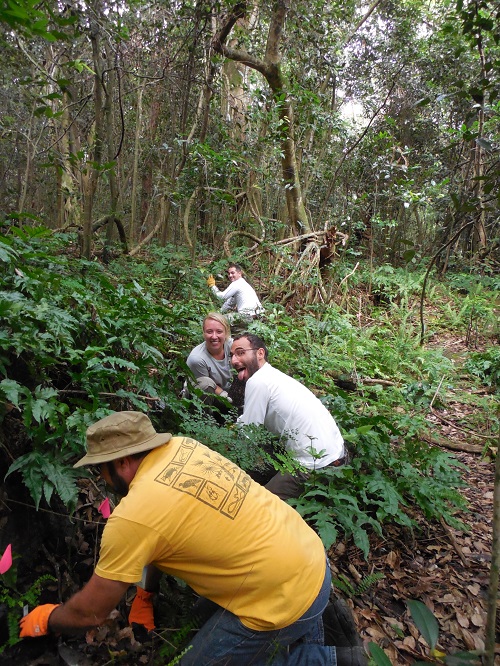 Figure 2: Fairchild interns and MDC biologists reintroducing rare ferns grown by the SFCT to a MDC preserve.
Ex-situ collections: The SFCT oversees the ex situ conservation of rare plants of MDC preserves. It currently holds collections of nearly every endangered plant on the Miami Rock Ridge, always trying to represent as many individuals from as many populations as possible. This is made possible by large-scale seed collection and storage efforts, aided by its partnership with the National Laboratory for Genetic Resource Preservation (NLGRP) to whom over 100,000 seeds of Florida endangered species have been sent, in addition to the SFCT in-house seed storage facilities.
Outreach: Conservation in an urban landscape requires public outreach, thus, the SFCT oversees the Connect to Protect Network, a citizen Science program that donates native pine rockland plants to local schools, businesses, and homeowners with the goal of helping to promote biological connectivity in the landscape by establishing "stepping stone" gardens. Public outreach and education is necessary to ensure that management strategies like fire can be implemented with support from the public.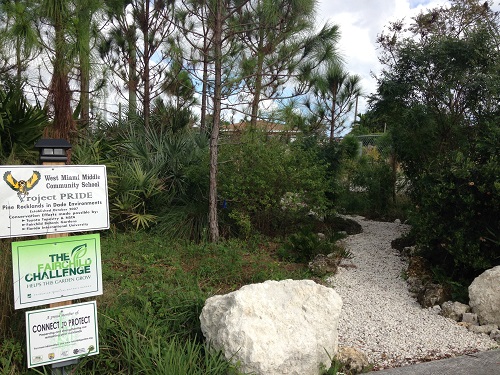 Figure 3: Pine rockland garden at West Miami Middle School, with understory species donated by Fairchild's Connect to Protect Network.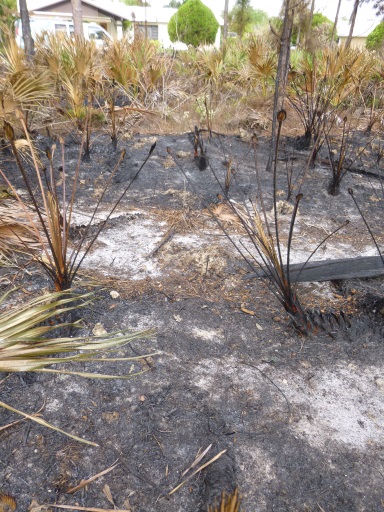 Figure 4: A recently burned pine rockland in foreground with Miami homes in the background. Many rare plants of this system are dependent on fire, and fire management is complicated by the urban interface.
For more information about this project, visit:
http://www.fairchildgarden.org/science-conservation-/plant-collections/florida-native-plant-collection
http://www.fairchildgarden.org/science-conservation/connect-to-protect-network
---